ALBUMS 1984-1990
During the time of the albums 1984-90, Mungo Jerry still continued touring extensively and of course, recording.
The collaboration with Vincent Crane and Peter Green on the album, A Case For The Blues was an obvious highlight.
Of course, we also had the much-loved Snakebite album in 1990.

---
BOOGIE UP
South African release only which originated from Ray's involvement with one time Mungo Jerry guitarist Ken Marshall.
It featured the summer classic On a Night Like This.
Ray Dorset on Boogie up…"Barry Collins, my agent at the time and business partner of Cyril Wayne had a backing track of the Laid Back hit, Sunshine Reggae.
"He suggested that I record it for UK release on his label.
"This I did in my studio in Grayshott with Sue Marshall doing the female vocal.
"Somehow or other a deal for this track came up in South Africa and the record company wanted an album.
"So, I gathered up a few other tracks that I had recorded and put them together for the LP.
"A tour was offered to me in South Africa. There was an embargo on at the time so I could not really go there as Mungo.
"With this in mind, I came up with the Horizon name to work with".
…and on On a Night Like This…

"I wrote this song on stage as a little bit to put on the end of In The Summertime and it turned into a complete song that I put on the Horizon album.
"The record company in South Africa really liked it and wanted to put it out as a single.
"I think that I could do a better job of the recording but I never really thought about it before.
"Maybe I should give it a go? Although it does not really fit in to the kind of music genre that I am performing and recording at the moment".
Tracks: On a Night Like This/Sunshine Reggae/Knockin' On Heavens Door/Feels Like I'm In Love/Still Waters/The Mood I'm In/Mungo Medley/Bland Affair/Boogie Up/Rhythm For Every Mood/Pulstar/You Blow My Mind.
---
THE ALBUMS 1984-90 – A CASE FOR THE BLUES
The album A Case For The Blues is still receiving plaudits from blues fans world-wide.
Almost forty years on from its initial recording dates (December 1983) and to it's conclusion by mixing two months later (February 1984). 
When checking it out, sadly it was by usually finding it bargain bin sales.
That was until it's splendid mixing, re-packaging and release by the Snapper label in 2000.
Tracks: Dust My Broom/One More Night Without You/Crane's Train Boogie/Boogie All The Way/Zulu Gone West/Blowing All My Troubles Away/Strangers Blues/Sweet Sixteen/Who's That Knocking/The Case.
How it came about is a story in itself, but first we must start with the musical pedigree of the three main players;
RAY DORSET
Ray Dorset, the singer, guitarist and songwriter with the group Mungo Jerry.
Mungo played blues/rock and skiffle in a carefree manner. It was music to get involved with and not to be taken too seriously.
The Hollywood Festival…

This was proved at Hollywood Music Festival in Newcastle under Lyme.
It took place on the Whitsun bank holiday weekend of May 1970.
Mungo, came, saw and conquered over the likes of the Grateful Dead, Free, Black Sabbath, Traffic and Ginger Baker's Airforce.
As the Melody Maker review of the festival stated, "Mungo Jerry were the only band who let the audience use them, rather than vice versa.
"The bonfires were burning brightly on the hills, and the assembled crowd of over 30,000 accompanied the band by banging coke tins together until the sound heard from a few hundred yards away was like a very groovy scrap yard working overtime."
Mungo Jerry entered the festival as semi-professional musicians and only got the billing because the band's management Red Bus had organised the whole event.
They left the stage on the Sunday night after being called back to do another spot after the roaring success of their Saturday slot, to find that the newly-released maxi-single In The Summertime had been voted song of the weekend.
In The Summertime…

Within two weeks this was confirmed by the start of a seven-week stint at No 1 in the UK singles chart.
In less than six weeks it was to be top of the charts in every major record selling territory world-wide.
In The Summertime went on to sell over six million copies in its first year of release, and has to date sold over a staggering thirty million copies.
It is now officially the most successful summer song ever!
Following such a mega successful debut could indeed be a hard act to follow, but follow it Mungo Jerry did.
Hit albums…

With two Top twenty albums, Mungo Jerry & Electronically Tested, and seven UK Top 40 singles including a second No 1, the riff-rocking Baby Jump.
By the early eighties the UK and several European hits had dried up.
Ray Dorset was still actively gigging & touring with various assembled musicians from the ranks of such bands as Chicken Shack, Spooky Tooth, Love Affair, Savoy Brown, Fat Mattress and Camel.
Whatever direction Dorset wanted to take his band, he had the talent around him to do so.
Ray Dorset was now living in a huge house in Grayshott on the Surrey/Hampshire border.
In the grounds he had his own Satellite recording studios, which he had built to help give new talent a foothold on the recording ladder.
He also used the studio and his previous home studio in Rushmore to enable him to take on his own music projects that took his fancy.
The Insiders…

One of these projects was a blues band that he fronted, The Insiders, with whom he could record without the pressure of having to try to come up with a hit.
He could also play gigs without needing to perform them.
Some of the best product that Ray was involved with at that time came out of those sessions. A chance meeting one night with Chris Holland, who had put together a couple of tours for Peter Green's current band Kolors…
PETER GREEN
Peter Green was the founder member and leader of Fleetwood Mac. In fact the band's first name was Peter Green's Fleetwood Mac.
They topped the bill at their first gig, the National Jazz and Blues Festival held in Windsor in 1967. They were soon signed to Mike Vernon's Blue Horizon label.
Then followed several hit albums and singles including Need Your Love So Bad, Albatross, Oh Well and The Green Manalishi.
But to imply that the band was a hit making machine would be an insult. They were at the forefront of the British Blues Boom and Green's haunting guitar was indeed one of the highlights of this period.
John Mayall's Bluesbreakers…

The fact that he replaced Eric Clapton as guitarist in John Mayall's Bluesbreakers and was accepted without a murmur speaks volumes for the mans talent.
It is strongly argued in blues circles as to which of the first two Mac albums is the definitive.
Any self-respecting record collection should contain both the eponymous Dustbin Cover, (thus known because of the sleeve design) and Mr.Wonderful. If you have never checked them out, do so now.
By 1970, Peter Green was increasingly disillusioned with his part in the music biz, because to him that was largely all it had become. Purely and simply a business.
He still wanted to play music, while spurning the money-making machine that he felt he was becoming.
Much has been said and written as to what turned Peter's head at this time; it was to change his personality both to and for the rest of his life.
But basically he wanted out. In May 1970 he announced to a stunned management and band personnel that he was leaving Fleetwood Mac for good.
He honoured his commitment to see out the tour. At the same time, Mungo Jerry were jet-setting the world at the beginning of their star status.
Peter Green was saying goodbye to his and spending most of the next ten years as a recluse with finger nails so long, guitar playing was impossible.
VINCENT CRANE
Vincent Crane, tasted his first success as keyboard player for the Crazy World Of Arthur Brown in the late 60s. He co-wrote with Brown, the hit Fire.
He quit the "Crazy World", which indeed the band had become, while touring the USA in 1969.
Atomic Rooster…

With drummer Carl Palmer (later co-founder of E.L.P) he went on to form Atomic Rooster. It was assumed that their new group would achieve sustained success.
At the height of the UK progressive rock boom, Atomic Rooster recorded the acclaimed Death Walks Behind You album in 1970.
With this riff-laden style, they had hit singles with, Tomorrow Night and The Devil's Answer.
After several line-up changes, Crane recruited blue-eyed soul singer Chris Farlowe in 1974.
Vincent kicked Atomic Rooster into touch not long afterwards.
Dexy's Midnight Runners…

He starred briefly once again with Arthur Brown, and even tried to re-ignite 'the Rooster'.
Sadly, the success that was once enjoyed by leaving the stage at a festival in Germany and having Deep Purple refusing to follow.
Free being plagued by chants of "Rooster, Rooster" throughout their set, was never to return.
In 1983 he accepted an invitation to record and tour with Dexy's Midnight Runners and starred alongside Kevin Rowland on the musically acclaimed album Don't Stand Me Down.
His final music fulfillment was to follow, his indeed would be a case for the blues.
Fast forward, England, December 1983…

The idea of Dorset, Green and Crane recording together came about after a couple of chance meetings.
 The first after a gig at the Winter Gardens, Bournemouth, where Ray Dorset met up with tour manager Chris Holland.
The second at a Christmas party, on Richard Branson's Virgin Barge Studio.
Len Surtees who would play bass on the album, and was at the Winter Gardens with Ray, was introduced to Jeff Whitaker and Vincent Crane by Chris.
Percussionist Jeff was looking for a different type of gig for himself and Peter Green as their band Kolors was coming to the end of their shelf life at the time.
It was agreed that they all meet up a few days later at Ray's Satellite studios, which was being built at the bottom of his garden at his home in Surrey.
Katmandu…

"It started off really as a jam thing in the beginning" recalls Ray. "Peter was not the easiest person to get along with at first, but I had met him before in the United States in 1970 and our chat developed from there.
"I was also in the audience at the Windsor festival in 1967, and I had attended the same school as Len Surtees and as musicians you talked as you jammed.
"In fact I remember a conversation at Southall Grammar with Len who was in the same class as me about the rock merits of Chuck Berry's, Schooldays, a favourite for both of us".
After a break for Christmas, everybody returned early in the New Year and a musical vibe was again quickly formed.
In control…

Ray Dorset took overall control of the proceedings, but everybody was welcome to input ideas.
The studio engineer was Ken Marshall who at the time was also playing guitar in the Mungo Jerry band.
Songs were recorded after rehearsals directly live onto tape.
In some cases where Peter felt more could be achieved after song-writing sessions in his Richmond home, before returning to the studio the next day to lay them down on tape.
The whole thing turned into a comfortable musical groove with no external record company pressure to come up with a hit-making pattern.
People who were happy with each other as musicians were playing the blues and the sounds were a mixture of rhythm, blues, soul and afro-Caribbean beats.
Enjoying the experience…

Peter Green really enjoyed the experience, and it is one of his favourite, if not favourite post-Mac albums.
He often compared the recording with his mid 90's product of his Splinter Group and their album Destiny Road citing two of Dorset's songs from the sessions, One More Night Without You and Blowing All My Troubles Away as his inspiration for the use of female backing vocals and keyboards for that album.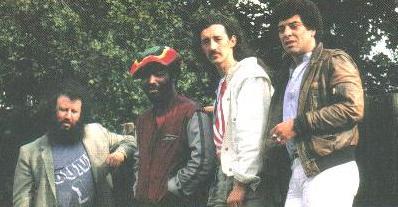 Even so, to start with Peter needed a lot of nudging and encouragement to get him in the mood.
Jeff Whittaker was quick to point out, "that whatever he did musically he needed to feel wanted, and would sooner underplay his guitar parts so as not to stand out in the crowd".
One Of the greats…

Ray Dorset added, "Peter is one of the greats, who can say it all with just one note, after hearing that one note you knew it was Peter Green".
After the initial settling in period, Green was up and away and would often like to start warm-ups with Crying Won't Bring You Back from his Little Dreamer solo album.
In fact he enjoyed these jam sessions so much that he would often sit behind the drum kit as well.
The fact that Peter would play drums during warm-ups was no slight on the drummer that the band used, session drummer Greg Terry-Short.
In fact Greg went on to sit on the stool for Peter Green in Kolors 2, his follow-up band.
Ray knew Greg from his session work at the Rock City Studio at the Shepperton Film complex, where Ray had offices for his Satellite and Kosmic labels.
Of the other musicians Len Surtees was a member of the Nashville Teens, and had done some work with Greg on an album for bluesman Jackie Lynton.
Percussionist Jeff Whittaker had been a member of Crosby Still & Nash and had come up with the lyric idea and played on the hit Love The One You're With.
He also played in the hit West End musical Catch My Soul, and was in a pre-Pink Floyd band with Dave Gilmour.
"Musically it started to come together quite quickly", recalled Ray Dorset. "The fact that we were all from a similar music background, having been regular members of the Ricky Tick circuit during the beat boom.
"I used to lead a band in the early 60's that shared a residency with the Rolling Stones at the Station Hotel in Richmond. I had also shared the stage with the likes of Eric Clapton, Ritchie Blackmore and their early bands.
"Peter of course had done his bit with Peter Bardens in Peter B's Looners and also The Muscrats.
"At one time, the drummer was Dave Bidwell, who later went on to perform with Chicken Shack before joining me in my Mungo Jerry band".
Sadly in 1989, Vincent Crane committed suicide and so cannot speak for himself about his past career, so part of his story is taken up by his old sparing partner 'The God of Hell Fire'.
Arthur Brown recalls that, "Vincent was a brilliant, classically trained musician with an immaculate taste in music.
"In fact when we used to play the Speakeasy in London (which had become a fashionable haunt for the Rolling Stones), Mick & the guys were quite bemused by our set".
This was before the Stones Satanic Majesties LP, which owed more than a little to the 'Crazy World's style of art-rock.
Brown also remembers that, "During our first American tour supporting The Doors and Frank Zappa, Vincent suddenly developed a James Brown vibe, and buys all his albums and plays them constantly.
"In fact he starts to go over the top. He begins to speak in numbers – 'You're the one. Two. Arthur three, Four. Maybe five'.
"And there was an aggressive undercurrent about it. We thought someone had spiked him. But it turned out he was a manic depressive".
On the Crazy World's next tour of the States, Carl Palmer had taken over on drums and along with Vincent and Arthur was asked by none other than the mighty Jimi Hendrix to form a new band.
"We used to play a New York club called The Scene, and Hendrix used to come down. We got to know each other a little bit and he'd come up and jam with us. He'd play bass, he'd never sing even when asked. He hated singing, but he was a f*****g great bass player!
" He wanted badly to be in a band with Vincent Crane. With a whole idea of screens, and tapes of Wagner playing in the background in fact he could focus on anything musical".
Jeannie Crane, Vincent's widow remembers that he was "very excited by the prospect of recording with the others especially Ray & Peter, and of terrifying car journeys to and from the studio during a very snowy/icy winter".
It was apparent that their careers had crossed paths many times. They had become intertwined in many different ways.
Members criss-crossed the bands with alarming regularity and it was amazing that it took two of the main players, Ray Dorset & Peter Green, so long to find themselves in a recording studio together.
Also, standing on the balcony of Ray's house which literally overlooked the communal Fleetwood Mac country manor in Benifold.
It would have been very interesting to be a fly on the wall on any tell-tales taking place.
"Peter fell in love with my house and at one time was very interested in buying it. I was having trouble with one of the roofs so it didn't go ahead.
"We used to buy-in Chinese and Indian foods which kept Peter happy. One of the girl backing singers had big boobs and that kept the smile on his face".
Studio engineer Ken Marshall recalls, "The atmosphere was relaxed. I got the feeling all enjoyed doing it. Ray took overall control. I don't think much would have been finished if he hadn't.
Jeff Whittaker became Peter's middle-man. Peter didn't like hassle and Jeff would step in to say what he felt Peter wouldn't be happy with".
Ken remembers the set-up consisting of "a 16-track studio. Recording on two-inch tape and Peter and Ray using my Lab Series as their main amp.
"Vincent had a Leslie amp which Peter liked the sound of. He put his guitar through it a couple of times.
"The guitars used during the sessions were Peter's 1960s Framus Nashville, and Ray's Fender Strat' and Gibson Les Paul Custom.
"Ray's Strat' was the red one he used on  Baby Jump and other hits. His original red strat' was stolen from Pye recording studios after the recording of In The Summertime.
"Peter liked the feel of it and would also often use it during sessions.
Outtakes…

"We used to keep the tapes rolling and edited the best takes for the album. Some of the out-takes not used are stunning.
"These guys were very experienced and taught me a lot. Peter needed the most coaxing to do another take. His favourite saying was", 'the first take is always the sweetest'.
"Ray on the other hand could do it over and over, until coming up with that all-important one. Which very often would be the first take.
"Lying around in Ray's current studio set-up must be some of those amazing jams".

---
THE ALBUMS 1984-90 – SNAKEBITE
Ray Dorset on Snakebite – "I began recording the Snakebite album with this line up ;
Tim Green (lead guitar), Les Calvert (bass), and Jamei Roberts (drums).
This was minus Steve Jones. I rang him to ask if was interested in playing some keyboard parts.
"Pete Heede, our sound man was against the idea. He felt that keyboards would soften up the overall sound too much.
"Steve did a good job and eventually became a full time member of the band.
"I was again including many numbers in the set that would include winding them up and getting them to participate.
"There was also again, a lot of humour in the band and also many enlightening discussions.
"It was a good idea to capture the vibe of the band on a piece of recorded work.
"This, with a number of songs that was representative of the band playing live at the time.
"I recorded my guitar parts and vocals live at the same time as the bass and drums.
"This was to get the feel and dynamics, as I would in a live stage performance, even though we did not play all of the songs live in the set.
"We rehearsed them first in a studio in Reading and recorded the album at the Padded Cell in Colnbrook.
"It is near Heathrow airport, and completed and mixed the album at Studio House in Wraysbury.
"Both studios were owned by my old friend Brian Adams. He was Mungo's promoter on the first Scottish gigs that we did".
Tracks: Snakebite/All I Wanna Do/Remember Me/Sugar In The Bowl/Rock 'n Roll, Rock 'n Roll/Heartbreak Avenue/Pick a Bale O' Cotton/Red Leather An' Chrome/JesseJames/Right On.
Click HERE for Snakebite on You Tube.
REVIEWS
Led by the irrepressible Ray Dorset, Mungo Jerry, currently celebrating their 20th anniversary, are back with a bang.
Sugar In The Bowl is a sprightly jug band number reminiscent of the style that made them famous, with Steve Jones accordion bringing a Cajun feel to the music.
The title track, with Tim Green's stunning slide guitar is an out-an-out rocker. Vintage Rolling Stones comes to mind.
John Van Der Kiste.
---
Ray Dorset has proved it once again.
There is far more to Mungo Jerry than just being one of the best good time bands around.
Snakebite offers a collection of varied and well crafted tracks, the majority of which are composed by Ray Dorset himself.
Mr Dorset shows here, that when it comes to songwriting, versatility is not something lacking in his repertoire.
All I Wanna Do is reminiscent of Dire Straits with a Mark Knopfler guitar and vocal feel to it. Heartbreak Avenue exudes more than a hint of Springsteen.
Snakebite, the title track along with Right On are guaranteed to cause a riot in any public library. Sugar In The Bowl invites the listener to 'grab your girlie and swing her around'.
It all makes you wanna get out and see the band live, and that can be no bad thing. Start scouring those gig listings and in the meantime, be sure to give Snakebite a listen.
The Beat Goes On Fanzine.
---