ADULTS ONLY
Tracks: Statesbro' Blues/Morning Dew/With a Girl Like You/Goin' Down Slow/One Bourbon, One Scotch & One Beer/I Can't Wait Until Tomorrow/She Loves Me Like a Woman/We Gotta Get Out O' The Army/All I Wanna Do/Rock Me Mama/St. Pete's Florida Blues/I Just Can't Say Goodbye.
Record Collector review… "The much respected rock biographer Alan Clayson wrote, "On a blues package touring UK theatres last autumn, Ray Dorset – the heart, mind and soul of Mungo Jerry – stole the show from Long John Baldry, Zoot Money and other white Britons once more famous than many of the black originators who captured their adolescent imaginations.
"Mungo Jerry's sing-a-long, quasi-skiffle sound has always encompassed blues – and Adults Only is, ostensibly, devoted entirely to the form.
"A controlled production criteria keeps instrumental meandering so in check that, like incidental music should in a film, enhances rather than diverts attention from the action, which hinges on a voice as distinctive as the mark of Zorro.
"Overall, it's more the blues as a state of mind rather than singing buzz-words over prescribed chord sequences – particularly in Dorset's own compositions and an intriguing overhaul of Tim Rose's, Morning Dew – that blasts this collection into a stratosphere high above that of the competent-but-boring band trundling out twelve-bars until chucking-out time at a pub near you."
RECORD COLLECTOR COMMENT…

"Not quite what it says on the label – but scintillating nonetheless ****
---
MORE INTERNET REVIEWS
"Not really a fan of the blues, but this is a cracking album.
"Anyone expecting jump boards and bottles may be shocked to hear full blown electric blues, with a mix of standards and great Dorset originals that are mainly rocking numbers.
"Dorset sounds uncannily like Jim Morrison on some tracks.
---
ADULTS ONLY *****BLUES REVISITED, July 8, 2004.
"Mungo Jerry always had their roots in the blues from the early jug band days in 1970.
"Some three decades down the line, Ray Dorset has revisited that earlier inspiration. "
This new album is an amazing mix of standards like Statesbro' Blues and One Bourbon, One Scotch, One Beer that really reflect the band's (as well as his own) enthusiasm for the music, alongside his own compositions like the effervescent Just Can't Say Goodbye and the ultra-catchy, yet seething with anger We Gotta Get Out O' The Army – which MUST be a single before long.
"A killer retread of Tim Rose's, Mornin' Dew shows how they can get heart and soul into the slower songs, and an extended live version of the 1972 Top 30 hit, Open Up captures the essence of the band onstage.
"Forget the endless compilations and reissues of In The Summertime – Mungo are a band who don't need to coast on past glories, and this stonking set proves it".
CLAUDE FLOWERS, KING COUNTY JOURNAL, APRIL 2004
"From the opening guitar blast of Statesbro' Blues to the moody, 'Suzie Q'-styled With a Girl Like You, Mungo Jerry mastermind Ray Dorset serves up a fiery platter of blues rock that – despite its title – is not for adults only.
"Indeed, some of the younger players who get so much praise in the media would do well to study the licks on this album.
"There's a grittiness, conviction and immediacy to the performances that demand attention.
"In The Summertime, in the wintertime, any time, this music demands to be heard.
"Now if only the band would tour North America…"
Claude Flowers, King County Journal music columnist – Seattle, Washington.
---
ADULTS ONLY INTERNET REVIEW : POSTED 12/12/04
"To anyone who merely remembers Mungo Jerry as the band who had a massive hit with In The Summertime in 1970, it might come as a surprise to learn that they are not only still very much active on record and as a live band, but also still musically a force to be reckoned with.
"The group's front man Ray Dorset has kept the name alive throughout the years and the personnel changes, sometimes fronting a full six-piece band, other times just performing as a soloist or as part of a duo.
"But of all the new recordings to surface over the past few years, it's generally agreed that this album, the first to be released under the Mungo Jerry Bluesband appellation, is the best thing he's done since the group's chart heyday over thirty years ago.
GERMAN MUSICIANS…
"The four other musicians; Michael Pohl (guitars), Klaus Wenske (bass), Achim 'Ako' Patz (keyboards, harmonica), Klaus Otto (drums) are from Germany – and do the five of them rock!
"Particularly as the entire album was recorded in Germany over three days in the Spring of 2003, more or less live in the studio with a minimum of overdubs, remixing and all that self-indulgence.
"Some bands may take six months to get the drum sound alone right, but the Mungo Jerry Bluesband thank goodness…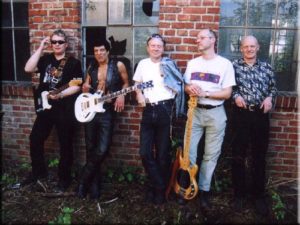 "Ray's gravely voice has always been well suited to the blues – don't forget we're talking about the man who once recorded an album with Peter Green, the strangely overlooked A Case For The Blues, released under the name of Katmandu.
"And the quintet's enthusiasm for the music – a few traditional blues numbers, plus some of Ray Dorset's own compositions – really shines out from every track.
"Statesbro' Blues, an old Willie McTell song from the late 1920's kicks off. You know that old Elmore James-style guitar lick? (Think Dust My Broom).
CHUNKY, NO-NONSENSE RHYTHM GUITAR…
Take that and some chunky, no-nonsense rhythm guitar, throw in a snatch of blues harmonica, and you've got it.
"Tim Rose's, Mornin' Dew takes the temperature down a notch or two. From a whisper to a scream, almost, with subdued, silvery guitar intro and Ray's lovelorn vocal, soft'n soulful at first, working it's way up to a full throated roar, has to be heard to be believed.
"With a Girl Like You, the first of Ray's own compositions, is a mid-tempo number. Kind of summery in feel, though a million miles away from In The Summertime, it's closer to Mark Knopfler territory. Apart from the vocals, this song might not have sounded too out of place on Brothers In Arms.
"Much the same might be said for another song on this collection, the relaxed, optimistic, All I Wanna Do.
"Goin' Down Slow and One Bourbon, One Scotch, One Beer are two different facets of the blues.
"The first is a fairly slow-paced number with shades of B.B King, the other an old John Lee Hooker song with new lyrics written by Ray.
"Vocally and stylistically, I Can't Wait Until Tomorrow reminds me of Joe Cocker. One of the slower more subdued numbers, Ray sings of impending freedom – coming out of jail for a crime he didn't commit, and reunion with his lady.
"Another slowish tune, She Loves Me Like a Woman has this incredibly beautiful organ intro and gorgeous yearning lead guitar.
"There's little doubt that We Gotta Get Out Of The Army is the star track here. Ray's response to the conflict in Iraq, it has that Elvis Costello knack of being catchy and angry at the same time.
INFECTIOUS CHORUS…
"Stinging guitar, organ and harmonica, an infectious chorus, but with anger at the futility of war.
"There's smoke up in the sky, people are gonna die, we can't take it any more, we hate the f*!*!*g war".It really should have been released as a single.
"Rock Me Mama chugs along nicely in mid-tempo fashion. More chunky guitar and harmonica, this could have come straight out of a mid-60's John Mayall session.
"It makes for quite a contrast with the east, laid-back St.Petes Florida Blues, usually associated with Ray Charles.
Mention of which makes one realise that the late Mr.C's voice perhaps isn't that far removed from Ray at his grittiest.
"I Just Can't Say Goodbye is a re-recording of a number which first appeared on the 1977 Mungo album, Lovin' In The Alleys, Fightin' In The Streets.
I can imagine Status Quo playing this. In tempo and rhythm, it's similar to Roll Over Lay Down and Whatever You Want.
With another infectious, instant chorus and tune, it's long been a staple of the group's live set.
"Finally, talking or performances, a nine-minute version of Mungo's 1972 hit Open Up rounds off the collection. A few variations on the original, of course, but despite it's length it doesn't drag for a moment.
The group's best album for years *****
---
MUNGO JERRY DVD – OPEN UP
The Mungo Jerry Bluesband released a live DVD recorded at an open-air festival at Vlotho, Germany, 1st September, 2002.
They also appeared at the Downtown Blues Club, Hamburg, 6th November later that year.
Track listing:
Let's Roll/Morning Dew/Going Down Slow/Why I Sing The Blues/Wiggle & Waggle/Dust Pneumonia Blues/She Loves Me Like a Woman/P.A.R.T.Y.O/One More Night/No More Woman Blues/Open Up.

---