RECENTLY ADDED TO THE SITE
MUNGO JERRY NEWS
Welcome to our Mungo Jerry news page. Here you will find all the latest on our 'mighty man' and his band.
---
Check out this video link to a clip of Mungo Jerry playing Long Legged Woman Dressed In Black on TV, featuring John Brunning on lead guitar. (Found by John Hornhaver).
---
"I have to tell you, every crowd I play The Colour of Love for absolutely LOVES it! From little kids to seniors in their 80s and above; they all dance, smile and try to sing along, even to my version!"
Gary Strickland, Georgia, U.S.A
---
MUNGO JERRY'S '5 FOR CHRISTMAS':
Mungo Jerry's '5 For Christmas' can now be found in our miscellaneous section by clicking HERE.

 
---
LATEST NEWS
After a long telephone chat with Ray, he asked me pass some of his latest news. Apologies if I don't recall everything he said word-for-word but…
The next single to be taken from the Somelight CD in the coming weeks is very likely to be, The Right Song. I believe that Marc Viscel has been working on a video for the song. More news when we get it.
Ray is also working on a compilation album, with all of the tracks recorded in mono. Bruce Brand is working on the 70's style sleeve.The album will include a new version of Alright Alright Alright. Not many fans will know that there was an extra verse that was omitted from the huge Mungo Jerry hit in 1973 at Barry Murray's suggestion. Darren's on bass and Bob plays the drums in a similar style to original drummer, Paul Hancox. Here it is, he missing verse…
Do you really care about saving your nation
Or do you want your own satisfaction
Do you care about society, philosophy
Or doughnuts for tea?
It should be up there on Spotify and other platforms in six weeks or so.
Not too much to tell on the gig front. Ray still suffers with his stomach problems and the travelling involved isn't ideal.
He has been invited to make guest appearances with Christoph Steinbach and also with Siggi Schwarz. Again, more news when we have it.
Completing the book that Mick O'Hanlon is working on is a priority. It's been such a long time from when work began on it and Ray wants to get it finished as soon as possible.
---
MUNGO JERRY LIVE – 2023
| | |
| --- | --- |
| 3rd-4th March | Guest with Siggi Schwarz, Lokschuppen, Heidenheim |
LET'S DO IT AGAIN
Taken from the Somelight album and well before its release, it entered the chart at 40 and peaked at 23.
Bruce Brand once again created the very nice artwork and the singles streaming release date was set for the 18th of November.
The talented Marc Viscel produced the video.
Here is the audio file for the short version of Let's Do It Again.
---
SONG OF THE WEEK
A long jamming version of She Loves Me Like a Woman from the Bansko Festival, Bulgaria in 2011. This song featured on the Fan Club CD, The Lost Recordings Vol.1.
If you'd like to add your comments, just email us at [email protected]
---
LATEST ALBUM: SOMELIGHT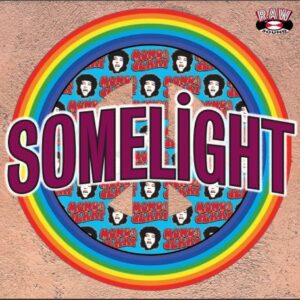 Mungo Jerry's latest album, Somelight is was released on May 27th, 2022.
Click HERE to read a review sent in by JJ.
Thanks to Ray and new to site are the lyrics to Mungo Jerry's album,
Somelight.
Just click HERE to sing-a-long.
Released on July 29th, Happy To Be will be the single for the promotion, with the video now ready for viewing below.
The single peaked at No.3 in the Heritage Chart.
Click HERE to visit our new SOMELIGHT page for early reviews of Mungo Jerry's new album.
Recorded remotely, there are twelve tracks in total and having had a preview, I can say that it is top draw with as the title suggests, 'some lighter tracks along with some rockers'.
The wonderful Bruce Brand has taken care of the artwork.
---
We have listed all of the tracks below and you can now hear snippets from all of them by clicking below:
We can now post the brilliant new video for the very sobering Somelight album track, A Plea For The Planet which is part of the Minds Behind The Music project.
Click HERE to view an interview with Ray Dorset about Minds Behind The Music
It is now approaching 9,000 views on YouTube!
The video has now been posted on the official MJ YouTube channel. Feel free to pass it on. The albums will be released at a later date, more videos from the album tracks are in the pipeline.
---
They said;
"…This Is a really great video clip, wonderful…"Rob Kamphues.
"…Brilliant!…"Brian Cook.
"…This is fantastic (God bless you Ray)…" Marc Viscel.
"…F*****g awesome…" Derek Wadeson.
"Very thought provoking and the music quite haunting…" Stuart Turner.
"Impressive, the lyrics, the vocals, the sound and production and of course the message. Can`t wait to hear the whole Somelight album"…Bengt Hertzman.
"What a brilliant song Ray"…Roel Van Ekeris.
You can also check out this relevant piece (found by JJ) about Minds Behind The Music.
Just click HERE
"

A new CD that once again surprises in the eternal staying power of one Ray Dorset as he takes you back to the late 60's early 70's with another highly listenable affair which draws on the blues & jug band sounds with up to date added touches.
"Great to hear those harmonica sounds. Not a weak track & highlights are Whole Lotta Rhythm, A Plea For The Planet & Lord What Have We Done."
(Review from our friend Ron Cooper's ZAB's Merry Zmas 2021 Newsletter)
---
Here is the interview Toby did for the Keyboard Chronicles, where he chats about his time playing with Rialto, Mungo Jerry and The Stranglers and more besides.
Also click HERE to read an interview Toby gave to The Stranglers website where he once again talks about playing with Mungo Jerry.
---
AUTOGRAPH REQUESTS:

Just a quick reminder that unfortunately, the official Mungo Jerry website – mungojerry.com – are unable to provide autographs due to the overwhelming volume of requests.
---
MUNGO JERRY at The Blues Garage – 3/11/2017 – playing Long Black Train
(Thanks to Juergen Keuneke for the tip off)
---
NEW ONLINE STORE:

The brand new Mungo Jerry online store is now up and running. It features the merchandise from mungojerry.com and will, in time, feature

new box sets and new pressings of previously released albums. Just click on the link below to visit the store.
---
MERCHANDISE STORE:

Powered by Envista Branding, the Mungo Jerry merchandise store is also up and running. Here, you can buy t-shirts, coffee mugs, bags and caps. Again, just click on the link below.
ROB KAMPHUES – NEW WEBSITE :

Our friend Rob Kamphues has a brand new website covering his vast Mungo Jerry collection, believed to be the biggest in the world.
Click HERE to check it out.
---
FACEBOOK :

There is a Mungo Jerry discussion page up-and-running on Facebook, something else I came across by accident. Click HERE and log-in to have a look.

---