RECENTLY ADDED TO THE SITE
MUNGO JERRY NEWS
Welcome to our Mungo Jerry news page. Here you will find all the latest on our 'mighty man' and his band.
---
ALAN JOHNSON R.I.P
We're sad to report that Mungo Jerry's former guitarist, Alan Johnson has passed away after a long illness.
Alan played with Mungo in the 90's, originally 'depping' for Tim Green when Tim wasn't available. He also did session work for the likes of the Bay City Rollers, Siouxsie & The Banshees, Tytan and Blackfoot Sue.
He did tell me once that he turned down the chance to join Iron Maiden – "we all make mistakes"!
Our sincere condolences to Lara and his family and friends.
R.I.P Alan.
---
LET'S DO IT AGAIN
Mungo Jerry's next single will be, Let's Do It Again, taken from the Somelight CD.
Well before its release, it entered the Heritage Chart at 40 and has now made it to 30.
Don't forget to vote which you can do once weekly by clicking below.
Bruce Brand has once again created the very nice artwork and the singles streaming release date is set for the 18th of November.
The talented Marc Viscel produced the video for the Mungovision channel on YouTube.
---
Here is the video footage from the recent interview Ray did with Alan Turner-Ward for Hope FM where they talk about Happy To Be and the Somelight album..
---
NEW ALBUM: SOMELIGHT – OUT NOW!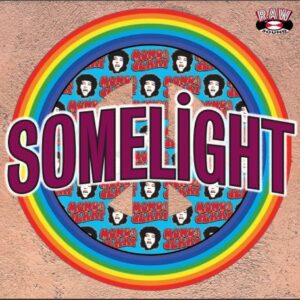 Mungo Jerry's new album, Somelight is now available to pre-order HERE  release date May 27th.
Click HERE to read a review sent in by JJ.
Thanks to Ray and new to site are the lyrics to Mungo Jerry's album,
Somelight.
Just click HERE to sing-a-long.
Released on July 29th, Happy To Be will be the single for the promotion, with the video now ready for viewing below.
The single peaked at No.3 in the Heritage Chart.
Click HERE to visit our new SOMELIGHT page for early reviews of Mungo Jerry's new album.
Recorded remotely, there are twelve tracks in total and having had a preview, I can say that it is top draw with as the title suggests, 'some lighter tracks along with some rockers'.
The wonderful Bruce Brand has taken care of the artwork.
---
We have listed all of the tracks below and you can now hear snippets from all of them by clicking below:
We can now post the brilliant new video for the very sobering Somelight album track, A Plea For The Planet which is part of the Minds Behind The Music project.
Click HERE to view an interview with Ray Dorset about Minds Behind The Music
Click HERE to buy the Minds Behind The Music.
Click HERE to buy an mp3 of the album.
It is now approaching 9,000 views on YouTube!
The video has now been posted on the official MJ YouTube channel. Feel free to pass it on. The albums will be released at a later date, more videos from the album tracks are in the pipeline.
---
They said;
"…This Is a really great video clip, wonderful…"Rob Kamphues.
"…Brilliant!…"Brian Cook.
"…This is fantastic (God bless you Ray)…" Marc Viscel.
"…F*****g awesome…" Derek Wadeson.
"Very thought provoking and the music quite haunting…" Stuart Turner.
"Impressive, the lyrics, the vocals, the sound and production and of course the message. Can`t wait to hear the whole Somelight album"…Bengt Hertzman.
"What a brilliant song Ray"…Roel Van Ekeris.
You can also check out this relevant piece (found by JJ) about Minds Behind The Music.
Just click HERE
"

A new CD that once again surprises in the eternal staying power of one Ray Dorset as he takes you back to the late 60's early 70's with another highly listenable affair which draws on the blues & jug band sounds with up to date added touches.
"Great to hear those harmonica sounds. Not a weak track & highlights are Whole Lotta Rhythm, A Plea For The Planet & Lord What Have We Done."
(Review from our friend Ron Cooper's ZAB's Merry Zmas 2021 Newsletter)
---
THE LATEST STUFF FROM RAY DORSET aka MUNGO JERRY
RAY WRITES…
(19/05/22)
Hi Folks, I have finally got to write some more MJ news, I was hoping to post a weekly update but unexpectedly a few things cropped up, and I just did not get round to putting anything together.
I am back in Cologne again, I only got to stay back in England for about two weeks, never mind, lots of stuff going on.
The official release date of the Somelight album is May 26th, and reviews and promotion have been very good.
I am featured on the front page of the latest issue of the Musix magazine in Germany, it also has a two page feature on me and the album. Three hundred thousand copies of the magazine are printed and distributed free from all the branches of the Media Markt multi media store.
Feels Like I'm in Love, the the third UK No1 song that I wrote is featured in one of the five award winning episodes of the Channel 4 TV series "It's a Sin". The series is set to be broadcast via Netflix, and also in the USA.
In the UK and Germany, my hit record / composition, Alright, Alright, Alright is now being used by LinkedIn for a six month advertising campaign. The set to become a cult horror movie, X, which features In the Summertime in the opening sequence is scheduled to be shown in cinemas in Germany on May 19th, it has received great reviews in the USA already.
The TV, cinema, and social media advertisement that I appeared in for an ad campaign in Switzerland has now gone live, it should put a smile on your face if you get to see it. It can be found on YouTube.
I have agreed for me and my band to do a festival in Norway on August 5th, the first live show that I have done since February 2020, and I have also agreed to do a guest spot with Christoph Steinbach on his Boogie Boogie show in Kitzbuhel, Austria on August 12th.
That's enough for now folks, God Bless and look after yourselves
Look out for the next edition of 'Ray Writes' COMING SOON!
Ray has been particularly taken with this new version of In The Summertime – check it out!
---
MUNGO JERRY LIVE – 2022
5th August

Paviljongen Gressvik, Norway (with 10CC) – On stage 19.30 – (First live appearance since February 2020) – TICKETS

12th August

Guest with Christoph Steinbach's Boogie and Blues Party

Amphitheater, Schloss Kaps A- 6370, Austria – TICKETS
---
Here is the interview Toby did for the Keyboard Chronicles, where he chats about his time playing with Rialto, Mungo Jerry and The Stranglers and more besides.
Also click HERE to read an interview Toby gave to The Stranglers website where he once again talks about playing with Mungo Jerry.
---
MUNGO JERRY at The Blues Garage – 3/11/2017 – playing Long Black Train
(Thanks to Juergen Keuneke for the tip off)
HAPPY BIRTHDAY TO RAY:

  Thanks to our friend, Mick O'Hanlon, he told us that Irish national radio RTE1 sent birthday greetings to Ray on the Ronan Collins show. It went like this: "Here's a man with a birthday today, Ray Dorset, also known as Mungo Jerry", before playing Lady Rose. 
Ronan then played Crocodile Shoes by Jimmy Nail before returning to the topic of Ray's birthday.
"Before that we heard Ray Dorset with Lady Rose on his birthday, 76 today. Also known for In the Summertime, Mungo Jerry had many hits during the 70's. Described as a good time, bluesy, jug band and, that's Mungo Jerry".
You can catch up by clicking HERE at just over 18 minutes.
---
ROCK 'N REEL MAGAZINE: 

Alan Clayson has a feature on Mungo Jerry in the March/April issue of Rock 'n Reel magazine.
Click HERE to visit the Rock 'n Reel website.
---
CAN THE GLAM!:

JJ has tipped us off about a new 4-CD Glam Rock compilation from Cherry Red Records that features one track by Mungo Jerry, Long Legged Woman Dressed In Black.
Click HERE for more info.
---
IT WAS 50 YEARS AGO: … 

that Mungo Jerry's fifth maxi-single, Open Up was released. It was the first release after the departure of Paul King and Colin Earl and charted at 21 in the UK singles charts.
RAY DORSET on Open Up…

"I was due to go in to hospital to have my tonsils removed but had to cancel this because of the problem in sorting out a new band and Barry, etc thought that we should get a single out as soon as possible to keep the momentum going after the press announcement of the split.
I wrote Open Up in a hotel just north of London, it had a Doors influence and I had the idea to use the instrumental break from one of the Good Earth tracks

".
BARRY MURRAY on Open Up…

"I thought the best thing to do would be to get a single out quick. Ray was not 100% there in his head, because of all that was going on around him, he was concerned about the state of the band. I said, look at it this way, you don't split the money four ways now, just pay everybody a salary. That seemed to cheer him up.
We chose Open Up as the single, it had a good feel but no real hook. I felt that we had a chart single, if not a Top 10 one and was proved right (it made 21 in '72).
We filled a gap, Mungo was still alive. At this time, I was having my own problems with Eliot and Elias, they had changed and I did what I told Paul and Colin not to do, I got out!
I sold them my shares in the company and started afresh with Harry Simmonds with the Simmonds/Murray Management Agency, looking after Savoy Brown and Chicken Shack amongst others.

".
DAN PETER INTERVIEW:

Just added to 'world' is an interview Ray did with Dan Peter (largely in German) in Ludwigsburg some time ago, around 2010 it seems. It can also be viewed on Facebook by clicking the link below.
---
NEW ONLINE STORE:

The brand new Mungo Jerry online store is now up and running. It features the merchandise from mungojerry.com and will, in time, feature

new box sets and new pressings of previously released albums. Just click on the link below to visit the store.
---
MERCHANDISE STORE:

Powered by Envista Branding, the Mungo Jerry merchandise store is also up and running. Here, you can buy t-shirts, coffee mugs, bags and caps. Again, just click on the link below.
---
Click HERE to view and have a listen to a new advert for Kewpie doing the rounds in Japan with a song composed and performed by Ray called The Colour Of Love.
Click HERE to read DJ Jon Kutner's nice piece on In The Summertime.
By clicking HERE, you can also watch this reaction video sourced by John Hornhaver in Denmark.
And HERE to watch an instrumental guitar piece for In The Summertime.
John Van Der Kiste has just informed us that Mungo Jerry's debut album reached No.64 in the Billboard charts way back in 1970. Click HERE to view the chart.
---
THE PAUL LESLIE HOUR INTERVIEW:

Here is another great interview with Ray on The Paul Leslie Hour in the States.
Click HERE to listen.
---
MARC VISCEL :

How about this brilliant piece of artwork from our friend, Marc Viscel over in New Jersey?
---
ANOTHER INTERVIEW:

JJ found another excellent Ray Dorset interview with Michael Limnios.
Just click HERE
---
NEW BEAT GOES ON COMPILATION: 
A compilation double CD is available from Beat Goes On Records.
It features all of Mungo Jerry's A and B-sides from the Dawn singles and also features tracks taken from albums.
By clicking HERE, you can read a review of the CD.
Click BGO for more info.
---
COLD BLUE EXCURSION: Ray Dorset's 1972 solo album, Cold Blue Excursion is now available for download on Spotify.
Click SPOTIFY to view the tracks.
---
BELGIUM MEDIA:

Rob Kamphues let us know of three adverts that were  shown in Belgium.
First advert click HERE
Second advert click HERE
Third advert click HERE
---
KARAOKE MUNGO:

New to Mungo Jerry Raw Vision and YouTube is this, the only official karaoke version of Ray's legendary composition.
The video was created by Ray Dorset and Darren Jones.
TEN ALBUMS THAT CHANGED RAY'S LIFE: 

Click HERE to read about ten albums that changed Ray's life.
BOB'S NEW DRUM SKIN: Mungo Jerry's drummer, Bob White has a fantastic new bass drum skin featuring the Mungo logo.
Ray also appeared on radio in the U.S.A taking part in a 30 minute interview in the Boston area.
Just click HERE
AUTOGRAPH REQUESTS:

Just a quick reminder that unfortunately, the official Mungo Jerry website – mungojerry.com – are unable to provide autographs due to the overwhelming volume of requests.
---
ROB KAMPHUES – NEW WEBSITE :

Our friend Rob Kamphues has a brand new website covering his vast Mungo Jerry collection, believed to be the biggest in the world.
Click HERE to check it out.
---
FACEBOOK :

There is a Mungo Jerry discussion page up-and-running on Facebook, something else I came across by accident. Click HERE and log-in to have a look.

---