RECENTLY ADDED TO THE SITE
MUNGO JERRY NEWS
Welcome to our Mungo Jerry news page. Here you will find all the latest on our 'mighty man' and his band.
---
BOOM RADIO LISTENERS VOTED MUNGO JERRY'S IN THE SUMMERTIME NO.1 IN THE ALL-TIME SUMMER SONGS CHART.
A HERITAGE RADIO POLL VOTED THAT'S THE COLOUR OF LOVE ONE OF THE BEST SONGS OF LAST YEAR
---
MUNGO JERRY – 'SONG-BY-SONG' BOOK
At Ray Dorset's (a.k.a Mungo Jerry) request, we are refraining from publishing our book, Mungo Jerry – 'A Song-By-Song Review' as he is busy working on his next album – "maybe my last" – Indefinable and would like us to include reviews of each track as we have done with all of his other work.
Frustrating as it is, it does make sense to have a full record of all of Mungo Jerry's musical output and leave no loose ends, even though we originally planned to have a 'Stop Press' section saying that a new album was simply 'Coming Soon'.
Ray has several tracks recorded already so hopefully the delay won't be a long one and fans I'm sure will agree that it is the correct thing to do.
Anyone who would like their name to be included in the book we are looking to include a section that will feature your name and location.
Simply reply to [email protected]…… or through Kevin Bennett's Mungo Jerry Fans Facebook page.
The book will be available to order through Amazon and we will post full details on the website and Kevin's FB page.
---
LATEST NEWS
NEWS UPDATE FROM RAY – (20/9/23):

We have just been sent the sleeve design, courtesy of Bruce Brand for the forthcoming vinyl LP entitled, Ten Grooves In Glorious Mono.
Ray told us, "The twelve inch mono album is well on its way, Marcello has checked the test pressing and he said that it was good."
It features the following tracks:
IN THE SUMMERTIME (New recording)
MIGHTY MAN (Original recording test pressing)
BABY JUMP (2023 version with drums and sax)
LADY ROSE (New recording)
HELLO NADINE (Original hit version)
ALRIGHT ALRIGHT ALRIGHT (2023 version with the missing 3rd verse)
LONG LEGGED WOMAN DRESSED IN BLACK (2023 version with drums and sax)
YOU DON'T HAVE TO BE IN THE ARMY TO FIGHT IN THE WAR (Solo acoustic version)
FEELS LIKE I'M IN LOVE (Sing-a-long in the coffee bar version)
DRAGSTER QUEEN (Swedish studio version)
Compiled by Ray Dorset & original mastering made by Darren Jones
Ray also told us, "The next album, Indefinable is a work in progress with several numbers recorded. There will probably be ten tracks on the album, maybe twelve, the stereo version of 1000 Miles will be included as well as I'm So In Love With You, which has a lot of work already done on it.
"I have been asked to make an appearance at the Regent Theatre, Christchurch, on Saturday 15th Oct as part of the Talking Pictures TV roadshow with Mike Read and others.
"A crew is coming to Bournemouth on Oct 1st and will stay until the 6th, I will be interviewed with the guy that founded and put on the 1970 Holland Pop Festival in 1970 which is still the biggest festival that was ever held in Holland. This is proposed for a movie documentary.

"
"As it's 50 years since Alright, Alright, Alright entered the music charts, I decided to make available a recording of the song containing the missing verse that I was asked to omit in 1973. I have arranged for a very limited number of 7 inch vinyl records of the song, in mono, to be manufactured, and below there is a YouTube video which contains a stereo version of the recording".
Not many fans will know that there was an extra verse that was omitted from the huge Mungo Jerry hit in 1973 at Barry Murray's suggestion. Darren's on bass and Bob plays the drums in a similar style to original drummer, Paul Hancox. The missing verse is…
Do you really care about saving your nation
Or do you want your own satisfaction
Do you care about society, philosophy
Or doughnuts for tea?
It should be up there on Spotify and other platforms, hopefully soon.
Fans comments:
"Just watched the new Alright Alright Alright video for the 6th time. It's brilliant! I think Ray should release it for the Heritage chart!"…Andy Harrison.
"Just one word. ENERGY! Fifty years have just evaporated from my face. I'm dancing around in the sunshine and my neighbours are getting concerned! Great!"…Mick O'Hanlon.
"Simple, effective and ideal for looning around to in the summer sun"…Derek Wadeson.
"What a great recording! I've a feeling it would go down really well on the Heritage Chart"…Alan Taylor.
Really great version! The original went to No.3 in the UK. This one will beat it!…Jean Jacques Bedrossian.
Just posted to YouTube is the audio for the B-side of the single, Five Hundred Miles…
---
ALRIGHT ALRIGHT ALRIGHT @ No.7: KEEP VOTING!
The new single, Alright Alright Alright 2023 spent 3 weeks at No.7 in the Heritage Chart making it another great success for Ray and his band.
Really amazing 50 years after the original recording!
Release date: 23rd July.
Click HERE for a message from Ray Dorset.
---
ALRIGHT ALRIGHT ALRIGHT:

 It's hard to believe but it was 50 years ago this year when Mungo Jerry released the monster hit, Alright Alright Alright.
It peaked at No.3 in the UK chart and featured Bob Daisley (Bass), Johnny Cook (Piano) and Paul Hancox (Drums). It was an exciting line-up – just check out the Ragnarok footage including 'Alright'.
Juergen in Germany tipped us off about the discovery of one of the Top Of The Pops appearances. Click on ALRIGHT to view the 'grainy' footage.
They said…
Ray Dorset:

"I was really pleased with the track, it was good to come back with such a big international hit."
Bob Daisley:

The 'Alright' recording session is a bit of a blur – we drank a lot and had fun doing it and were pleased with the outcome."
Paul Hancox:

"After Bob and I laid the backing track, as we wanted, we went down the pub and got completely trashed! On returning to the studio, we had to record the B-side, to this day, I don't remember playing it, and I think if Bob were honest, he doesn't either!

Simon Baker:

That is my favourite Mungo record. I was learning to play then, and it had that really quite nice, swinging, natty piece of drumming. It really stuck in my brain.

---
JJ in France has tipped us off about a feature about Ray Dorset's 1972 solo LP, Cold Blue Excursion in the latest issue of Rock & Folk magazine. It is, of course, in French but is a must for all you collectors out there.
JJ can supply copies for 20 Euros and that price includes postage. Just email him @
---
Check out this video link to a clip of Mungo Jerry playing Long Legged Woman Dressed In Black on TV, featuring John Brunning on lead guitar. (Found by John Hornhaver).
---
"I have to tell you, every crowd I play The Colour of Love for absolutely LOVES it! From little kids to seniors in their 80s and above; they all dance, smile and try to sing along, even to my version!"
Gary Strickland, Georgia, U.S.A
---
SOME NICE COVER VERSIONS
Roel Van Ekeris in Holland has sent in some interesting Mungo Jerry cover versions Just click on the links to view
---
MUNGO JERRY LIVE – 2023
| | |
| --- | --- |
| 3rd-4th March | Guest with Siggi Schwarz, Lokschuppen, Heidenheim |
| 29th July | SWR TV, Germany (Performing In The Summertime) |
| 15th October | Regent Theatre, Christchurch (as part of the Talking Pictures roadshow with Mike Read and others) |
---
SONG OF THE WEEK
A live rendition of Baby Let's Play House, the opening track on Mungo Jerry's debut LP in 1970.
If you'd like to add your comments, just email us at [email protected]
---
LATEST ALBUM: SOMELIGHT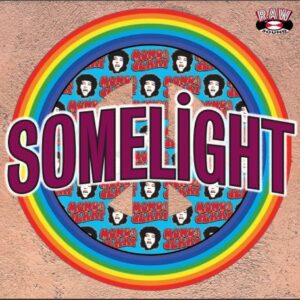 Mungo Jerry's latest album, Somelight is was released on May 27th, 2022.
Click HERE to read a review sent in by JJ.
Thanks to Ray and new to site are the lyrics to Mungo Jerry's album,

Somelight.
Just click HERE to sing-a-long.
Released on July 29th, Happy To Be was the first single for promotion.
The single peaked at No.3 in the Heritage Chart.
Click HERE to visit our new SOMELIGHT page for reviews of Mungo Jerry's new album.
Recorded remotely, there are twelve tracks in total with, as the title suggests, 'some lighter tracks along with some rockers'.
The wonderful Bruce Brand took care of the artwork.
---
We have listed all of the tracks below and you can now hear snippets from all of them by clicking below:
Click HERE to view an interview with Ray Dorset about Minds Behind The Music
You can also check out this relevant piece (found by JJ) about Minds Behind The Music.
Just click HERE
"

A new CD that once again surprises in the eternal staying power of one Ray Dorset as he takes you back to the late 60's early 70's with another highly listenable affair which draws on the blues & jug band sounds with up to date added touches.
"Great to hear those harmonica sounds. Not a weak track & highlights are Whole Lotta Rhythm, A Plea For The Planet & Lord What Have We Done."
(Review from our friend Ron Cooper's ZAB's Merry Zmas 2021 Newsletter)
---
Here is the interview Toby did for the Keyboard Chronicles, where he chats about his time playing with Rialto, Mungo Jerry and The Stranglers and more besides.
Also click HERE to read an interview Toby gave to The Stranglers website where he once again talks about playing with Mungo Jerry.
---
AUTOGRAPH REQUESTS:

Just a quick reminder that unfortunately, the official Mungo Jerry website – mungojerry.com – are unable to provide autographs due to the overwhelming volume of requests.
---
MUNGO JERRY at The Blues Garage – 3/11/2017 – playing Long Black Train
(Thanks to Juergen Keuneke for the tip off)
---
NEW ONLINE STORE:

The brand new Mungo Jerry online store is now up and running. It features the merchandise from mungojerry.com and will, in time, feature

new box sets and new pressings of previously released albums. Just click on the link below to visit the store.
---
MERCHANDISE STORE:

Powered by Envista Branding, the Mungo Jerry merchandise store is also up and running. Here, you can buy t-shirts, coffee mugs, bags and caps. Again, just click on the link below.
ROB KAMPHUES – NEW WEBSITE :

Our friend Rob Kamphues has a brand new website covering his vast Mungo Jerry collection, believed to be the biggest in the world.
Click HERE to check it out.
---
FACEBOOK :

There is a Mungo Jerry discussion page up-and-running on Facebook, something else I came across by accident. Click HERE and log-in to have a look.

---