YOU DON'T HAVE TO BE IN THE ARMY
You Don't Have To Be In The Army, was the third album released by Mungo Jerry on the Dawn label. The last by the band before Paul King and Colin Earl went their separate ways. Mungo Jerry carried on as Ray Dorset, the songwriter and Mungo Jerry the performer.
(Probably the most collectable of all of the albums pressings, is the Japanese version where it was called Back To The Mungo Jug, with a slightly different track listing.)
Tracks: You Don't Have To Be In The Army To Fight In The War, Ella Speed, Pigeon Stew, Take Me Back, Give Me Love, Hey Rosalyn/Northcote Arms, There's A Man Going Round Taking Names, Simple Things, Keep Your Hands Off Her, On A Sunday, That Old Dust Storm.
Click HERE for You Don't Have To Be In The Army on You Tube.
---
RAY DORSET ON THE ALBUM…
"After beginning work on the album with new songs, we came to a halt because things were not quite gelling. We decided to take a break and go to the pub.
"We all came back in a good mood and I suggested that we set up as we did at the Master Robert and play some the songs that we had done in the clubs live in the studio, warts and all.
"This we did and I think that we managed to capture the atmosphere really well. It was good fun and the laughs that you can hear at the end of Ella Speed confirm this".
YOU DON'T HAVE TO BE IN THE ARMY…
An extremely satisfying album from Mungo Jerry which makes an excellent follow-up to Electronically Tested. The band really have been misjudged in the past as their latest album has far more to recommend it than simply the spirit in which it was recorded.
It opens with the now familiar title track and then rips into the old Leadbelly classic Ella Speed. In another old number, Take Me Back, they achieve a superb Cajun feel whilst the 'traddies' are complemented by some fine Ray Dorset compositions and Paul King's excellent Hey Rosalyn.
Mungo run the whole gamut from blues through to rock'n roll. Northcote Arms being a superb example of the latter.
They also include several other tracks which will be familiar to blues enthusiasts such as Leadbelly's, Keep Your Hands Off Her and There's a Man Going Round Taking Names as well as Woody Guthrie's, That Old Dust Storm.
It's a really good stomping album.
Music Press, 1971.
Mungo Jerry are an amazingly good band. Good because they have never pandered to public opinion. They created their own sound, modelled closely on the blues of Huddie Leadbetter and his copyists, and when it became popular stuck to it.
The result is possibly the most authentic natural modern British blues around. You may laugh, but just listen to You Don't Have To Be In The Army (Dawn DNLS3028, £2.30).
For a start, it's impossible to differentiate between the Dorset adaptations of trad numbers and the Dorset originals – and he's the only Mungo writer on this album (Forgetting that Paul King wrote Hey Rosalyn).
They all have that home spun flavour, similar in style yet each one different. Apart from the superb title track, Hey Rosalyn is outstanding with quaint recorder phases. Northcote Arms is a rocker every bit as good a thing the Wild Angels or others could do.
Only trouble with Mungo albums – we're so spoiled with the good single value (four tracks for 50p) that 12 for £2 seems robbery.
Quality : Great. Value : see last sentence above.
Music press, 1971.
YOU DON'T HAVE TO BE IN THE ARMY (Dawn)…
The time is approaching one suspects when the goodtime heroes of Newcastle Under-Lyme (Hollywood Festival) will have to decide how rigidly they wish to conform to jug band style. For the sound which had people on their feet and dancing to In The Summertime is beginning to wear thin on record.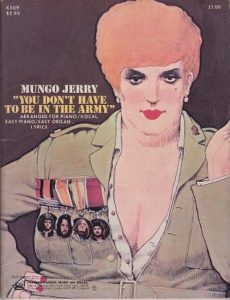 The material on this album is all great, foot-tapping stuff but at least on the heavier rock'n roll of Northcote Arms and Give Me Love (both Ray Dorset songs) the absence of strong bass lines and the scanty attention given to Ray Dorset's singing detracts from the quality and impact.
Instrumentally, Mungo are halfway to stronger music with Dorset playing some attractive vintage electric guitar. He's also written the majority of the songs and quite effectively too. In expressing himself simply he has said quite a bit more than those songwriters who tackle abstract concepts inadequately .
The title track informs you that anything from being ejected from your girls house for having long hair to being kicked by Her Majesty's Constabulary is part of your own little backdoor war.
Paul King has written a good song in Hey Rosalyn and Guthrie's That Old Dust Storm is included.
NME, 16th October, 1971.
YOU DON'T HAVE TO BE IN THE ARMY : MUNGO JERRY : DNLS3028
Maintaining the freshness with which they injected the music scene in early 1970, Mungo Jerry come up with another winner.
The opening track on side two, Northcote Arms is one of the best rock'n roll songs to come out in recent months (or even years) and catches the flavour of the great Johnny B.Goode.
Most of the other numbers are in the skiffle mould – There's a Man Going Round Taking Names on side two is a good example of this.
However, this is not regressive music because it takes its musical idiom from a past era. It manages to combine it in a presentation which can only be accurately described as 'Mungo-music'.
MUNGO JERRY : YOU DON'T HAVE TO BE IN THE ARMY (Dawn DNLS3028) £2.40
Mungo Jerry's music has been criticised in some quarters as too much of a muchness. I suppose that, to a certain section of the public, there is some justification in that remark.
A band using the rather limited range of instruments that Mungo possesses must be somewhat limited in its variation of basic rhythms. But the quartet is now more subtle than many may believe.
The first three tracks, on this the band's third album – You Don't Have To Be In The Army To Fight In The War, Ella Speed and Pigeon Stew – have a common beat linking them. But by varying the role of the piano, kazoo, guitars, washboard (courtesy of Joe Rush from the excellent Country Jug), the theme changes.  And Ray Dorset is able to modulate his voice to some extent.
Whilst Mungo's is basically goodtime music to be stomped and even skip-jived to, (dating myself again). There is often the odd social comment thrown in, as witness the generation gap of the title track and the hard drug problem of Ella Speed.
On the brighter side, Give Me Love is and out-and-out rolling blues number that would do well as a single. Northcote Arms is a rock 'n roll piece done in exemplary style. That Old Dust Storm has you reaching for the cider jug.
All things considered, I enjoyed this album more than Electronically Tested which did well in the chart. So I would expect this one to do even better, 'cause I was right about the last one.
RG, Music Press, 1971.
---

INTERNET REVIEWS…
"You Don't Have To Be In The Army was the 3rd excellent album (1971) by British supergroup Mungo Jerry, which followed the huge success of Electronically Tested.
The artwork represented an stylish imitation of period war posters. The original team of Ray Dorset, Paul King, Colin Earl and John Godfrey was fortified by Joe Rush on washboard. And the band have stuck to its jug band-hard rock roots.
The music is as hot as a pinch of pepper in the ass!
P.S : Don't trust the critics. It has nothing to do with glam. No Tolkien-esque dragons, magicians, wizards. You don't need to fight evil spirits. A hangover, perhaps?
---
"I suppose that when you have no drummer there is only so far you can take things. But this really is a damn good album.
"It is arguably better than the 1st two (Mungo Jerry & Electronically Tested) but somehow missed out on original release which is a shame as it contains some great sing along tunes.
"To prove that drums are not always necessary, just listen to Northcote Arms which is a rock 'n' roll gem of a song. Also thrown in for good measure is a bit of 'jug', 'blues', 'skiffle' and 'folk'.
"Mungo Jerry also added kazoo and wash-board to proceedings, both should be used more often! Give it a try and I doubt you will be disappointed".
---
Check out the Official Mungo Jerry website
---