PRESS RELEASE
---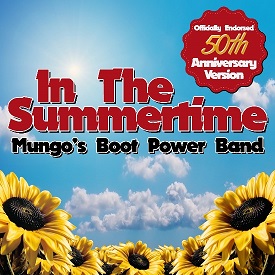 MUNGO JERRY and Friends
Impact Date 17th July 2020
Release Date 31st July 2020
MP3 & WAV available
---
IN THE SUMMERTIME – 50th ANNIVERSARY VERSION
THE ULTIMATE 'KEEP-CALM-AND-SING-ALONG' SINGLE WILL KEEP FAMILIES SMILING
AS POP'S GREATEST SUMMER ANTHEM HITS 50
AND IS RE-IMAGINED BY 50 FRIENDS AND MUSICIANS FOR THE STRANGE SUMMER OF 2020
In The Summertime is perhaps the most recognised and loved summer song of all time. Composed by Ray Dorset a.k.a Mungo Jerry, the song was originally released on 22nd May 1970. It entered the UK chart at No. 13 and the following week hit No.1, staying there for 7 weeks.
In The Summertime went on to top charts across the world, becoming one of the biggest selling singles – 30 million sales at a conservative estimate – in pop music history.
…one of the biggest selling singles in pop music history…
Now, In the Summertime 50th Anniversary Version' AKA #Summertime50 has been recorded as a new single, by 50 musicians, fans and friends of Mungo Jerry. All done remotely during lockdown.The result is uplifting, innocent and as positive as ever – perfect for Summertime 2020.
The new version was conceived, arranged and produced by Mungo's son, James Dorset, who like his father Ray, has followed a career in music.
…a celebration of life…
James said, "I came up with #Summertime50 initially as a way of celebrating my dear Dad, to mark his achievement in writing such an incredibly catchy and popular song. It's a celebration of life – and we truly believe that singing along will be a therapeutic experience and will help to ease the minds of all us who are suffering during this weirdest of summers."
'In the Summertime' – Talkies
1. In The Summertime became an overnight success immediately after its release on 22nd May 1970.
2. The following day, 23rd May 1970, Mungo Jerry made their live debut at the Hollywood Festival, Staffordshire, where they stole the whole show from bands including The Grateful Dead, Traffic and Black Sabbath.
3. Two weeks later it was No.1… and remained there throughout the summer, spending 7 weeks in the UK charts and across the world.
…SEVEN WEEKS AT NUMBER ONE…
4. In the Summertime is said to be the third biggest selling physical song of all time, only being topped by White Christmas by Bing Crosby and Candle in the Wind by Sir Elton John.
5. Over 30 million physical sales and 200 million plays on amalgamated platforms.
6. The song is adored by German fans: on July 5th, 2020, the German Hit Station SWR 4 is inviting its 2.3 million listeners to join a public singing of In The Summertime in Waiblingen, near Stuttgart.
7. Ray Dorset is one of the few UK song writers to have composed three UK No.1 songs: Baby Jump was the follow up to In The Summertime and topped the chart for three  weeks in March 1971, knocking off George Harrison's My Sweet Lord from the No.1 spot. It was later featured in its entirety for the opening of the award-wining movie The Crying Game.
8. He later wrote the No.1 hit Feels Like I'm in Love, by Kelly Marie. It was the UK's first hi-energy disco hit, topping the UK chart in Sept 1980…although it was originally written for Elvis Presley who sadly passed away before he could record it.
9. Ray Dorset aka Mungo Jerry continues to write and record new material. His latest single, The Lockdown Thank You Song,  was composed and recorded during lockdown, with Ray having to play, record and produce everything himself. This brand-new song was written with the same positive and uplifting sentiment of In The Summertime and has been extremely well received and is expected to gain momentum in popularity through the rest of this year.
Mungo Jerry Official YouTube
Mungo Jerry Official Site
www.mungojerry.com
________________________________________
PR CONTACT
[email protected]
07930 304 301